NCA Chief Executive Officer Teresa Huizar
Teresa Huizar, National Expert on Child Abuse Intervention and Trauma Treatment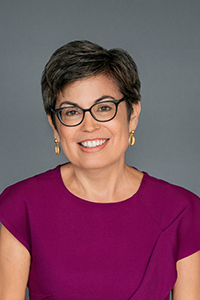 Teresa Huizar (pron. WEE-zar) is chief executive officer of the Washington, D.C.-based National Children's Alliance. She has served at every level in the Children's Advocacy Center (CAC) movement, beginning her career in 1993 at a CAC in Colorado developing psychoeducation curricula. She has subsequently served in executive roles at the local center, the state chapter, the western regional center, and finally with the national organization, which she has led since 2008. Over the course of her career in the movement, she has successfully advocated for the passage of legislation and policy initiatives that help child victims of abuse at the local, state, and national levels.
Teresa is available for comment or to provide background on national and local stories about child abuse that relate to its investigation, the consequences of abuse, evidence-based treatments that heal the trauma of abuse, justice for abusers, and the community responses that help restore childhoods and families. She has appeared on national programs and been quoted in dozens of stories, including:
Teresa is the host of One in Ten podcast, engaging in in-depth interviews with some of the brightest minds in science, law, medicine, morality, and messaging working on solving one of the world's toughest challenges—child abuse.
Under Teresa's leadership, National Children's Alliance ensures the highest standards of practice, anchored in evidence, for CACs delivering comprehensive care to child victims of abuse. The national association and accrediting body for more than 900 Children's Advocacy Centers and 50 State Chapters, NCA provides training, technical assistance, financial support, and access to innovative research and education to improve outcomes for children. NCA represents the CAC movement on Capitol Hill and to the federal agencies that support CACs. NCA also leads special projects in mental health treatment and issues such as child sex trafficking and child-on-child abuse.